Famed Actor and Star of Babe and Succession says German athletic-wear manufacturer should turn to non-animal materials for the shoes or face boycott
New York City, NY — Actor James Cromwell staged a protest inside of an Adidas store in Manhattan, calling on the company to stop killing kangaroos to make soccer cleats and to replace kangaroo skins with cruelty-free materials. As Cromwell exited the store chanting "Kangaroos Are Not Shoes, Just Stop The Slaughter," he joined hundreds of animal welfare activists who continued the protest behind police barricades.
The protest was in support of the Kangaroos Are Not Shoes campaign by the Center for a Humane Economy. It was organized by New York-based animal-welfare group TheirTurn and occurred over the Labor Day weekend at the Adidas store in Soho, the world-famous shopping district in New York City.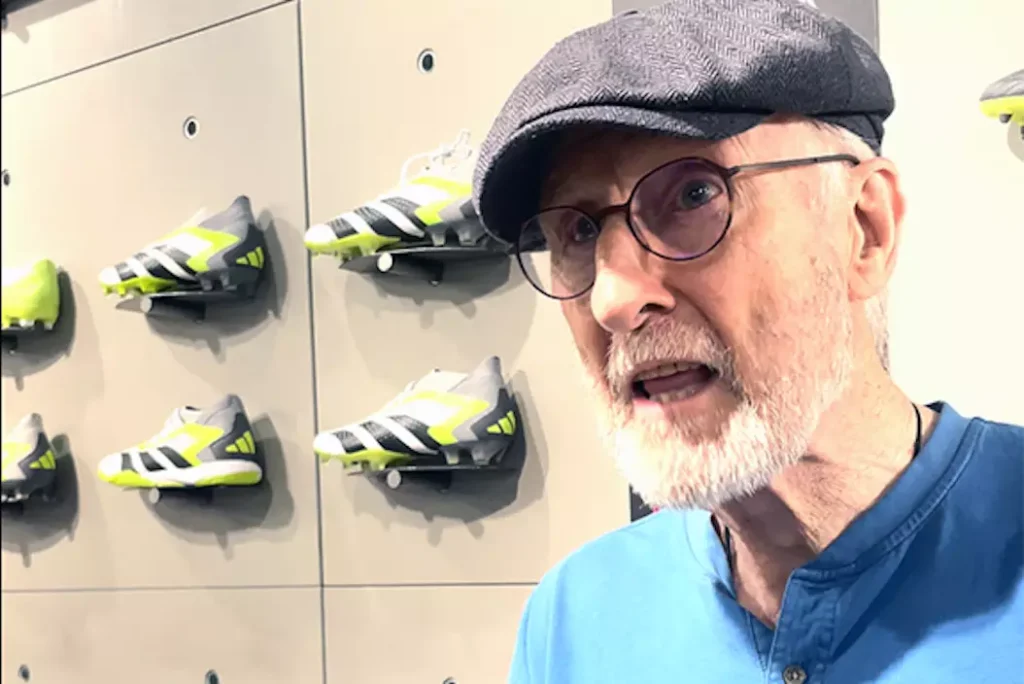 Cromwell was nominated for an Academy Award for his iconic roles in "Babe: Pig in the City" and "Star Trek: First Contact" and has appeared in dozens of other films and television programs. Most recently, he appeared in HBO's massive hit "Succession." Offscreen, he is known as a bold force for animals. In May 2022, he famously glued his hand to the counter at a Manhattan Starbucks to protest the chain's surcharge for non-dairy milk.
"We are here to implore Adidas to stop killing kangaroos. They kill kangaroos in order to make shoes, but they don't need to," Cromwell says in video from the event. "Don't support them. Don't buy the shoes. And if they refuse to change, think about boycotting them."
Cromwell can be heard chanting with others the name of the Center's campaign, "Kangaroos Are Not Shoes."
The video can be viewed here and downloaded here. Broadcast rights are granted for media wishing to show the video. Attached is a photo of Cromwell at the SoHo Adidas store during the Sept. 4 event.
"James Cromwell is a dynamic force for animals, and we are elated that he is applying his credibility and star power to help us speak out for kangaroos," said Jennifer Skiff, director of international for the Center.
"Chasing down terrified kangaroos in the dark of night and slaughtering them for their skin is unconscionable," said Donny Moss of TheirTurn. "Adidas needs to join Nike and Puma in making the switch to cruelty-free materials."
The Center recently launched a campaign to call attention to Dick's Sporting Goods, the largest sporting goods retailer in the United States, for its marketing of kangaroo-sourced shoes in store and online. The campaign is called Don't Be a Dick's (#DontBeaDicks), and the Center's online petition has logged almost 10,000 signatures in two weeks.
"It heartens us to see the incredible response to our efforts to protect kangaroos from such needless slaughter," said Joseph Grove, director of communications for the Center. "People really do care about these animals, and companies like Dick's Sporting Goods and Adidas need to listen to them, or else be prepared for the inevitable backlash they are experiencing now."
'Largest commercial slaughter of terrestrial wildlife'
Since the launch of the campaign three years ago, Diadora, Puma, and Nike announced commitments to halt the sale of kangaroo-based shoes. Now, just a handful of major manufacturers offer the products, including Adidas and New Balance.
Each year, about 1.7 million wild kangaroos are gunned down in their native habitats, the groups say, making it the largest commercial slaughter of terrestrial wildlife in the world. Killing guidelines are deficient and impossible to enforce in the Australian Outback. What's more, commercial shooters are permitted to kill mother kangaroos even when the joeys are still in their pouch or nursing from their mother. About half a million joeys a year suffer this fate.
The campaign comes just as the U.S. Congress has turned its attention to the issue. Last month, key Republicans and Democrats in the U.S. House of Representatives introduced the Kangaroo Protection Act, H.R. 4995, to ban the sale of kangaroo body parts in the United States. A U.S. Senate bill is forthcoming. And a bill that also targets kangaroo skins sales is slated for introduction in the Pennsylvania legislature in Harrisburg.
In 2021, Animal Wellness Action and the Center, working with two Hollywood filmmakers, released a vivid, widely shared short film on this topic. Using reverse sequencing, the film starts with a soccer player kicking a goal and ends with a kangaroo about to be killed in the Outback, tracing the distinct, connecting steps in between. View the video here.